ABOUT
Lisa Kon is an LA-based nail artist and top-level specialist in Russian manicure.
She is a trend setter in the nail industry. She has the highest qualifications and stands behind the most viral celebrity manicures, she creates unique designs and owns her own line of professional nail products.
Nail technicians all over the globe look up to her expertise, main Hollywood celebrities trust their hands to Lisa and rely on her beauty vision.
She is not merely a nail technician, she is an artist. A manicure from her is a true work of art. She has studied for many years, different techniques, searching various sources for information, trying lots of methods, analyzing each step trying to figure out all the advantages and disadvantages here and there, before she found her exceptional formula which includes high quality, sharp technique and high speed.
Now she is teaching and inspiring others.
Her clients like Miranda Kerr, Zendaya, the Kardashian's family, Kendall Jenner, Kylie Jenner, Hailey Bieber, Christine Quinn are obsessed with her unique and professional work.
If you want to know how to improve yourself, Lisa is ready to help you out. She has created and organized her own manicure classes, she would love to share all information which she had discovered for many years.
If you would like to improve your skills, hit the link 👇🏻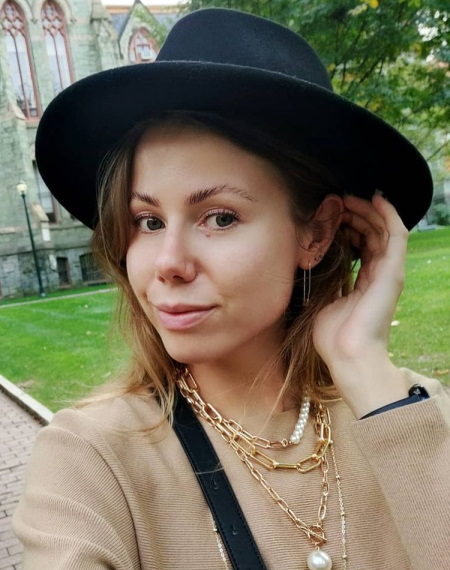 Lisa's story is a Russian way of the American dream coming true. Her passion in manicure turned into a multi-business: two nail studios, her own brand of professional products, an online-store and school for nail artists.
Obsession for beauty, aesthetics and creative approach helped her to scale her businesses and become a worldwide famous expert in the nail industry.
The quality of service and Lisa's unique approach instantly conquered all of LA. World- famous celebrities and influencers like Kendall Jenner, Hailey Bieber and Miranda Kerr became Lisa's clients.
The art that Lisa creates on the hands of celebrities immediately becomes a trend that thousands of people wish to recreate, fresh photos of her work are instantly published in press and beauty profiles on social media.
The key secret is when Lisa collaborates with her client, she creates new styles and designs according to tastes and preferences of each person. That's why manicure by Lisa Kon is a unique beauty ritual.
Working in beauty has become not just a way of making money but a personal mission. The big idea is to make a change in the industry, implement and develop the Russian manicure in the US and pass on her experience to other nail technicians.
Her own brand, Lisa Kon, has its own niche. The Lisa Kon brand focuses on both nail artists and clients and stands for high-quality and easy-to-use products, various color palettes, trendy shades, long-lasting gels and coats. Lisa Kon online-store has all necessary tools for work.
Distribution is now in 6 countries.
The unique Russian technique of creating an amazing manicure is taught by Lisa at her own school. All nail technicians at Lisa Kon Lab have masterclasses from Lisa personally to provide best service and quality. Lisa's school is a way to help technicians to improve qualifications and to learn secrets of celebrity's nails. Lisa Kon manicure is embodied not only on famous influencers' hands but on the hands of beloved girls all over the world.